Policies and FAQ's
You've got questions? We've got answers! Below are the answers to the most frequently asked questions about field trips. Please also review our field trip policies here. Feel free to call 336-888-7529 or email Learn@QubeinChildrensMuseum.org with any other questions you may have!
General Information
10

or more children are required from an organization to qualify for a field trip.

Passes, discounts, coupons, and membership cards will not be accepted as payment for group visits.

Group rates include 3 hours at the Museum

Adults supervising groups must be over the age of 16 to count toward the required ratio. We cannot admit groups with fewer than the required number of adults.
How do I pay two weeks in advance if I don't know how many students I will have?

In order to offer the heavy discount for our field trip groups (which includes at least $4 off each student ticket, free staff, and one free adult ticket for every 5 students), your final count and payment are due two weeks prior to your visit. This steep discount which often equates to hundreds of dollars saved, greatly offsets the cost of a couple of students that may be unable to attend on the day of. Please contact us if you need a few additional days to send in your final count.
How can I have my additional chaperones pay?

If your school or district will allow, the easiest way to do this is to add them to your final count two weeks in advance of your trip. These additional chaperones will be added to your invoice and will be charged at the discounted student rate. These additional chaperones can then pay the school directly. This is the only way to get the discounted student rate for your additional chaperones.
If your school or district is unable to pay for chaperones, please direct your chaperones to purchase their tickets in advance at https://www.qubeinchildrensmuseum.org/buy-tickets. This will allow for the smoothest admission process upon arrival.

What if my district doesn't allow us to pay for our chaperones?

We can still include your free chaperones (1 adult for every 5 students) on your invoice. You will be responsible for communicating to those parents if their tickets are included. Any additional parents that may want to attend will need to purchase their ticket in advance at https://www.qubeinchildrensmuseum.org/buy-tickets. Due to capacity restrictions, additional tickets may not be guaranteed on the day of.
If it is easier to have all chaperones pay in advance, rather than receive 1:5 free, please contact us at learn@QubeinChildrensMuseum, and we will adjust your invoice accordingly.

Can we eat our lunches at the museum?

Yes! Please indicate that you would like to do this when you request your visit. We will schedule a time for you in our party rooms. This time will vary depending on other groups attending that day. We will make every effort to accomodate your preference, but can not guarantee a specifically requested time. If you have a firm time you must eat, or would prefer to eat outside, there are picnic tables located at the back end of our parking lot that are first come first served.

Can we request one of the films to be shown to our group?


Absolutely! Just include this in the comments section when you request your visit. We will make every effort to accomodate your request. The cinema seats about 70 people, so depending on your group size, you may need to watch in two groups. Film requests will be scheduled at the start of your arrival to not interfere with the schedule for other guests. Groups arriving later than 10 am may not be able to have a private showing and may wish to attend a regularly scheduled film.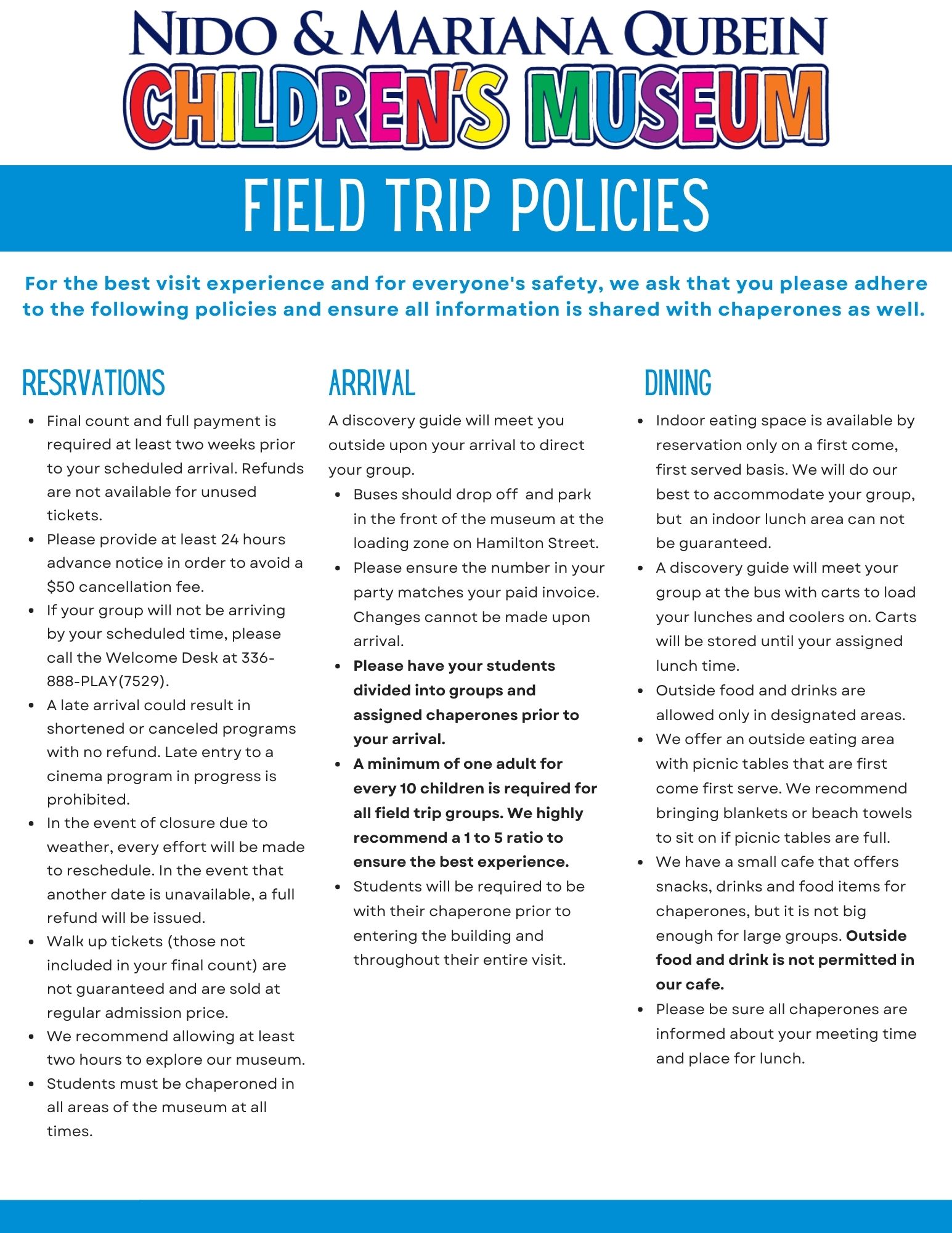 Download and read all policies pertaining to field trip visits here.